Free Tooth Fairy Certificates
When my oldest lost his first tooth, it was a huge deal. The tooth fairy was in full force with notes of encouragement and congratulations. She outdid herself! By the time child three had lost her first tooth? The tooth fairy was a bit of a slacker. So, in honor of slacking tooth fairies everywhere (you know who you are!), here are some free printable Tooth Fairy Certificates to make every child feel special!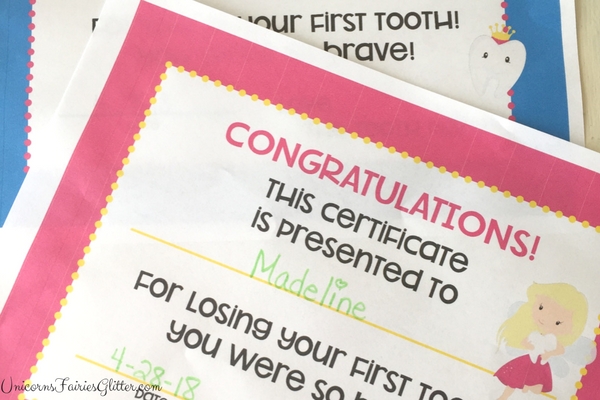 Free Tooth Fairy Certificates
While these printable certificates will make your life a lot easier, we definitely have to give you some tips for using them. They'll help the tooth fairy be a rockstar in the morning!
Don't forget these few things when using the tooth fairy certificates!
1 – Print them out after your child has gone to bed.
Seriously, you don't want them walking in as it's coming out of the printer!
2 – Save them on your computer as something else.
When you get them, they'll say Tooth Fairy Certificate. You want to change that – especially if your child uses your computer. Be stealthy and make the tooth fairy proud. 😉
3 – Disguise your handwriting!
Nothing ruins a tooth fairy surprise than seeing mom or dad's handwriting on the certificate. Even if you are the tooth fairy's helper, it would be way more fun to see her handwriting on the certificate!
How to Download the Tooth Fairy Certificates
Downloading the certificates is easy peasy. Simply enter your information** below and the PDF certificates will be emailed* to you.
*Check your other folders if you don't see the download after 30 minutes or so. Sometimes gmail puts it in another folder just to keep you guessing. If you're using hotmail, we strongly recommend using a different email address, because chances are it will get lost in the hotmail abyss. True story.
**Don't worry, we hate junk mail as much as you do and will never sell, lend, or give out your email address.