The Best Glittery Gifts for Teens
Encourage your teens to shine and sparkle with extraordinary glittery gifts!
Teenagers are all about expressing their unique personalities and embracing their individuality.
So, what better way is there to bring sparkle into their lives than with a touch of glitter?
Glittery gifts have become incredibly popular among teens.
They offer a fun and stylish way to stand out and shine bright.
Glittery gifts are sure to delight any teenager no matter what the occasion.
Let's check out some of the best glittery gift ideas that will make your favorite teens sparkle!
This article contains affiliate links to products you may like.
Glittery Gifts for Teenagers
Glitter Phone Cases
Teens and their phones are pretty much inseparable.
Give the gift of a glittery phone case as a present that is both practical and stylish.
Choose a phone case with vibrant, eye-catching glitter or a just simple touch of sparkle.
Glittery cases will protect your teens precious devices and showcase their personal style.
Glitter Makeup
For teenagers who love experimenting with makeup, glittery cosmetics are a must-have.
Shimmering eyeshadows, highlighters, and lip glosses can instantly transform any look.
Glittery makeup can add a touch of glitz and glamour to everyday or a special occasion.
Plus, if you opt for skin safe products that are easy to remove, this glittery gift is a win, win!
Glitter Fashion Accessories
From jewelry to hair accessories, glittery fashion items are great present ideas for teens.
Sparkly extras are an easy way for young adults to make their ensembles dazzle differently.
Go for pieces that have simple shiny accents or full glitter designs.
Glittery fashion accessories can make a bold statement or add a subtle sparkle.
Glitter Stationery
Teenagers love to personalize their study supplies and express their creativity.
Glittery stationery items like pens, notebooks, and binders can make learning more fun!
Go for vibrant colors and sparkly designs that reflect your teens personality.
Make homework and note-taking a little more exciting with glittery school supplies.
Glitter Sneakers or Shoes
If the teen in your life is a fashion diva, surprise them with a pair of glittery sneakers or shoes.
These fashionable footwear options are available in various styles and colors.
That means there's a pair to match every type of fashionista!
Whether your teen prefers a touch of shimmer or total glitter, sparkly shoes make a great gift.
Glitter Room Decor
Encourage teens to transform their bedrooms into a bling paradise with glittery room decor.
From pillows and throws to wall art and fairy lights, there are many sparkly options out there.
Glittery accents can create a dreamy and magical atmosphere in any teen's room.
Make their personal space feel especially extraordinary with glittery room decor.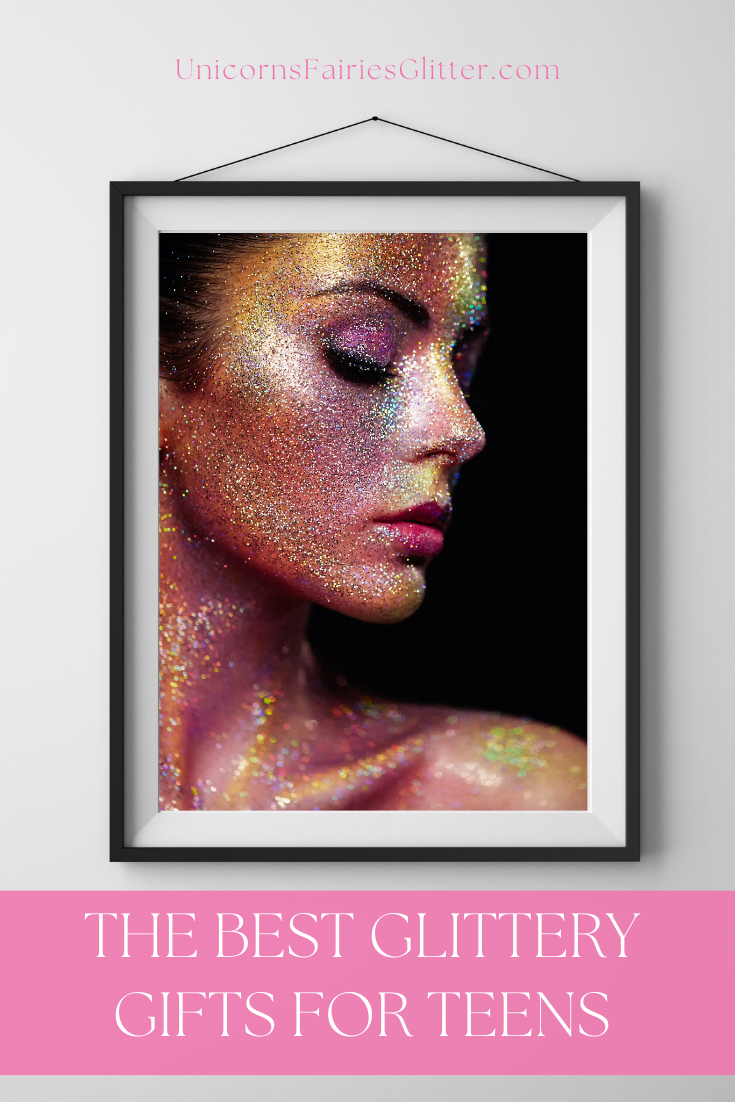 The Best Glittery Gifts
Finding the perfect gift for a teenager can be a real challenge.
However, opting for something that sparkles is a surefire way to get a smile.
The shimmer of glittery gifts lets teens embrace their love for all things dazzling.
From twinkling phone cases to glitzy room decor, glittery gifts are truly magical.
Surprise your favorite teens with some glittery goodness and see them sparkle!
---
You May Also Like…