Glitter Unicorn Mother's Day Card Craft
Celebrate mom with a Glitter Unicorn Mother's Day Card craft that you can make at home!
Since we're all about glitter and unicorns here, we fell in love with this Glitter Unicorn Mother's Day Card craft. Not only is it all things feminine and glittery – it has a unicorn. Which is really what all Mother's Day cards should have if you ask us.
This card may look a bit tricky, but it's really a piece of cake. (And when we think cake, we think unicorn cake, of course.)
Simply gather your supplies – we've linked them for you – and start creating. The best part? It will be a card mom cherishes forever and always.
Let's get started!
DIY Unicorn Glitter Mother's Day Card
Supplies:
Instructions:
1. Cut the card-front and card-back from the template, making sure you cut inside the black border lines.
2. Cut two pieces of glitter teal cardstock to 5.5" x 5.5".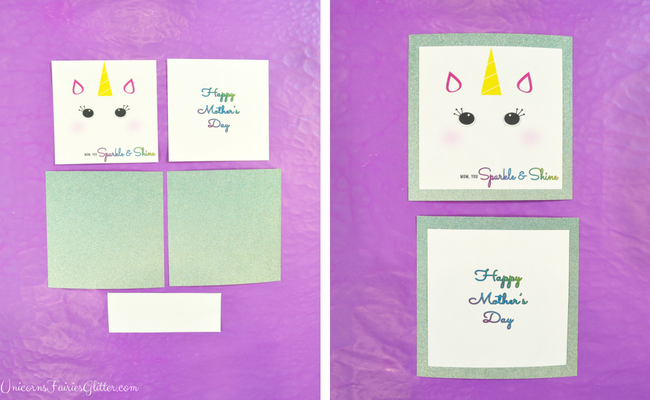 3. Use the white paper scraps from the template to cut a piece of paper to 5.5" x 2". You will use this to bind the card-front to the card-back.
4. Glue card-front to the glitter teal cardstock. Glue card-back to the other piece of glitter teal cardstock.
5. Turn the card-front over & label the right hand edge "A". Turn the card-back over and label the right hand edge "C".
6. Fold the 5.5"x2" white paper in half lengthwise, label the top "B", open the fold and label the inside, right-handed side "D".
7. To bind the card together: Glue card-front "A" to white paper "B". Then, place card-back on top to line "C" next to "D" and glue. When you open the card, you'll see a part of this white paper to the inside left of the crease. If you turn the whole card to the back side, you'll see the other part of the white paper.
8. Glue the large flower to the center using glitter glue. Add the gem to the inside of the large flower. Use the gold glitter glue to attached the medium flowers along side the large flower. Glue the remaining flower petal pieces to each side to complete the flower crown. Dot the glitter glue to the inside of each flower to give each a little sparkle.