Unicorn Theme Party Ideas
Get some magical inspiration with these unicorn theme party ideas!
So, you've decided on a unicorn themed party. Wonderful! Unicorns are enchanting and whimsical creatures that are sure to bring a bit of magic to your celebration. From birthdays to promotions, or even if you want to have a shindig just because, hosting a unicorn themed party will be fun for everyone!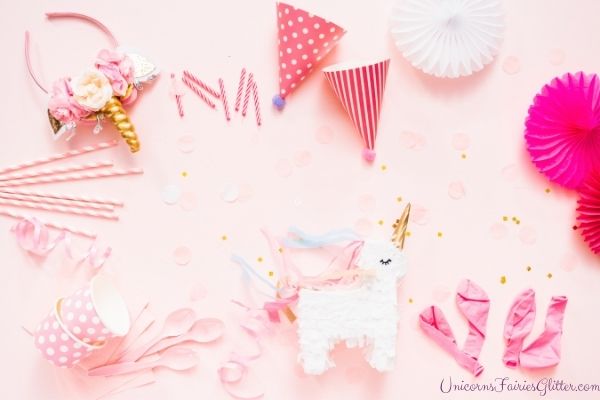 Not sure where to start? Don't worry! We have put together some amazing ideas for a memorable unicorn party!
Let's get started!
This article contains affiliate links to products you may like.
Having a Unicorn Party
Unicorn Decorations
When decorating for a unicorn-themed party, dress up your space with rainbows, glitter, and some sparkle. Here are a few whimsical unicorn party decor ideas:
Unicorn Confetti
Unicorn confetti can bring the decor together. Make some enchanted unicorn confetti with a mix of sequins, glitter, and magical shapes like hearts, stars, and more! Sprinkle tables and other surfaces with unicorn confetti for a simple and fun decor idea.
Rainbow Balloon Arch
A rainbow balloon arch instantly creates a feeling of enchantment for party-goers. Go with bright and bold colors or soft pastel hues. Any rainbow arch will be the ultimate entrance for a unicorn party!
Sparkling Garland
Hanging sparkling garland will dazzle just about everyone. Sparkling garland makes a statement as is, or it can be adorned with pennants and tassels for some extra whimsy.
Unicorn Food
The best food ideas for a unicorn party are everyday treats made with a touch of whimsy. Take a look at these magical unicorn snack ideas:
Unicorn Shakes
Shake things up at the party with unicorn shakes for everyone. Offer a milkshake bar so guests can create their own. Think about having unicorn-inspired toppings such as mini rainbow marshmallows, edible glitter, candy jimmies, and of course whipped cream and cherries.
Unicorn Fur
Another tasty treat for a memorable unicorn bash is a stick of unicorn fur! It's also known as rainbow-colored cotton candy and it is a classic party snack. Put another unicorn twist on them by adding ribbon and streamers to the bottom of the candy stick for it to turn into a magical wand.
Unicorn Horns
Unicorn horns are upside-down ice cream cones, coated with frosting and rainbow sprinkles. The perfect unicorn party treat, unicorn horns are tasty either by themselves or placed atop a bowl of rainbow ice cream. Yum!
These scrumptious cupcakes are easy to make and add just the right amount of unicorn whimsy to your unicorn-themed party!
Unicorn Games
A must-have for any party is a pinata! And when it's shaped like a unicorn, everyone wins! Fill the unicorn pinata with rainbow treats, unicorn favors, and more!
Pin the Horn on the Unicorn
This classic game with a twist will have everyone feeling magical! Guests can spin around blindfolded and see who gets closest to pinning the horn on the unicorn. How fun!
Unicorn Stick Races
A unicorn stick race is sure to get everyone moving. Trot and gallop on a unicorn stick all the way to the finish line. Make it even more fun by offering the unicorn sticks as a party favor. Who wouldn't want their very own unicorn to ride at home?
Planning a Unicorn Party
There are so many ways to throw a magical unicorn themed party. With glittering rainbows here and sparkling touches there, it really is easy to make your unicorn party shine! Whether you decide to DIY or head out to the party supply store, one thing is for sure: your unicorn themed party will be memorable!
You May Also Like…