Mermaid School – Be A Mermaid
Go to school to become a mermaid!
Did you ever dream about being a mermaid? Bring those dreams to life by heading to mermaid school. At mermaid school, you can learn everything there is about being a mermaid. From swimming with a tail to underwater dancing, mermaid school can make your dreams come true.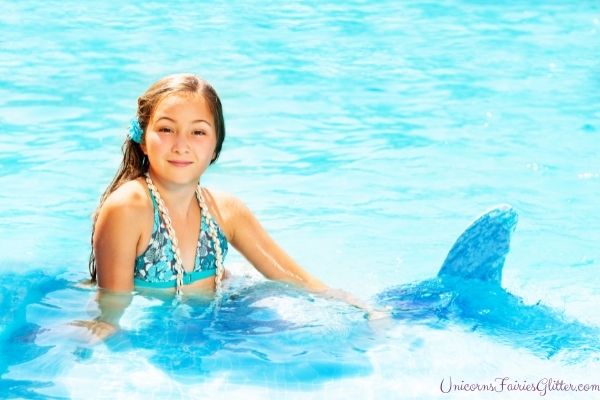 Let's learn a bit more about mermaid school!
Become A Mermaid at Mermaid School
Be A Mermaid
If you want to be a mermaid, you must first know how to swim. Once you're really good at swimming, the steps to becoming a mermaid will be easy to follow.
A big part of being a mermaid is being able to hold your breath underwater for a good amount of time. Do this by practicing breath holds. When you're feeling good about your swimming and breath-holding abilities, you will then need to get a tail and monofin to wear.
Swimming with a mermaid tail is different from swimming with your legs, so you'll need to practice quite a bit while wearing it. Once you are comfortable in your mermaid suit in the water, you can work on underwater tricks, poses (both in and out of the water), and dance moves.
So, do you still think you would like to learn how to be a mermaid? If so, check out some schools that offer mermaid training.
Professional Mermaid School Locations
Located in Orlando, FL, this school offers a one-hour mermaid class for kids 4 years and older. This is great as a fun activity or to see if mermaiding is for you.
Anyone 8 and older can take a class at the LA Mermaid School in Simi Valley, CA. Teaching tail skills, playing games, learning water choreography are just a few of the mermaid basics at this school.
This camp is fit for kids ages 7-14 is in Weeki Wachee Springs, FL. It's 2 days long and teaches kids what it's like to be a Weeki Wachee mermaid, with a grand performance at the end of class. Weeki Wachee also offers a camp for adults 30 and over. Fun!
Set in Wailea, HI, this school offers little ones 5 and up one-on-one coaching from a real mermaid. Learn all the tips and tricks of being a real-life mermaid.
There are a number of locations for this school, including places in Mexico and Canada. In the US, Aquamermaid School is in Chicago, Las Vegas, Miami, Phoenix, and Austin. This school teaches the art of mermaiding with synchronized swimming and is suited for ages 7 to adult.
Mermaid School Supplies
There are a few supplies that you will need before heading to your first class. Basic swimming necessities such as a swimsuit, goggles, a swim cap (depending on the class), flip flops, and a towel are pretty standard.
Mermaid essentials include a mermaid tail and a monofin. Mermaid tail rentals may be included with classes, so you should check before buying your own. If you'd rather have your own, they are usually available for purchase at the school or online.
Either way, the school should have a list of everything you will need to take their mermaid classes.
Learn to Be a Mermaid
Becoming a mermaid doesn't have to be a fantasy. You can make it happen by taking classes at any mermaid school or university. Learn how to be a mermaid just for fun, or practice to be a professional mermaid!
You May Also Like…