Magical Places for Mermaid Lovers to Visit
Magical destinations that are made for mermaid lovers!
For centuries, mermaids have been mysterious creatures of the sea.
Living wild and free in an underwater world, they only appear to those who believe.
As a true symbol of enchantment and magic, mermaids mystify and charm people of all ages.
If you are a believer, it is true that you can actually experience their magic in real life.
There are several breathtaking destinations around the world where mermaids may be living.
Let's take a journey and explore some of the most magical places for mermaid lovers.
This article contains affiliate links to products you may like.
Destinations for Mermaid Lovers
Ha Long Bay, Vietnam
Ha Long Bay in Vietnam is known for its fascinating otherworldly beauty.
It's a place that seems like it was taken from the dreams of a mermaid.
This mesmerizing seascape is full of the most magical waterways and tiny islands.
Explore Ha Long Bay for a chance to see a mermaid.
Sail along the emerald waters in a traditional junk boat.
Or, kayak around the floating islands and explore hidden coves.
Who knows, a stunning siren may just appear at any moment.
Isla Holbox, Mexico
The hidden gem of Isla Holbox sits right off the Yucatan Peninsula in Mexico.
This mermaid lover's destination is made of crystal waters and white sandy beaches.
Its abundant marine life gives this island a serene and magical ambiance.
Jump in the water and swim with gentle whale sharks, majestic manta rays, and tropical fish.
Exploring this paradise beneath the waves creates a real life mermaid experience.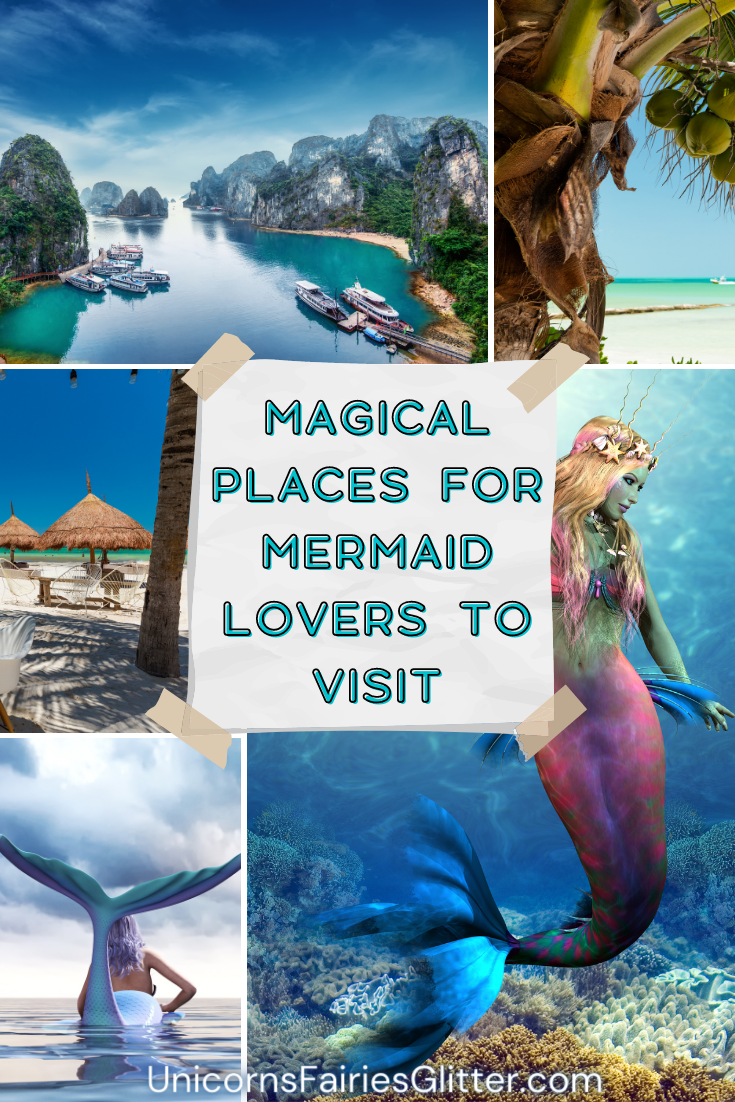 Skopelos, Greece
Skopelos, Greece is an enchanting island found in the Aegean Sea.
Its crystal clear waters and lush landscape is a picture-perfect setting for mermaid lovers.
Snorkel, dive, or take a boat tour for a magical experience.
Head into the hidden coves along the coast and you just might catch a glimpse of a mermaid.
Weeki Wachee Springs, Florida
The mermaids of Florida make themselves known at Weeki Wachee Springs.
Open since the 1940's, this unforgettable attraction is truly captivating.
Watch in awe as professional sirens perform graceful underwater routines.
Weeki Wachee Springs brings every mermaid lover's under-the-sea fantasy to life.
Cenote Dos Ojos, México
Found in Mexico's Yucatan Peninsula is Cenote Dos Ojos.
As part of the largest underground cave system in the world, it's a most fantastical place.
These natural sinkholes are believed to be portals to an incredible underwater world.
Crystal clear waters and stunning rock formations create a paradise for mermaid lovers.
Dip in the water for a snorkel or scuba dive and explore the ancient caves.
Embrace the magic and dive into a hidden realm that may just be full of mermaids.
The Maldives
Dazzling turquoise waters make the Maldives a true tropical wonderland for mermaids.
It's a destination that mirrors the essence of dreams and enchantment.
Take a swim amidst the most vibrant coral reefs for a mystifying experience.
Encounter manta rays, sea turtles, and maybe even a mermaid.
Enchanting Places for Mermaid Lovers
If you believe in the world of mermaids, these enchanting places will captivate you.
Immerse yourself in the wonder and beauty of extraordinary underwater realms.
Swim with marine life. Explore hidden coves. Catch a mermaid performance.
Whatever interests you, each of these locations promises an unforgettable experience.
So, cherish the wonders and enjoy the allure of the most magical places for mermaid lovers.
---
You May Also Like…