Mermaid-Inspired Home Decor: Bring the Ocean Inside with Mermaid Decor
Bring the ocean inside your home with mermaid decor and more!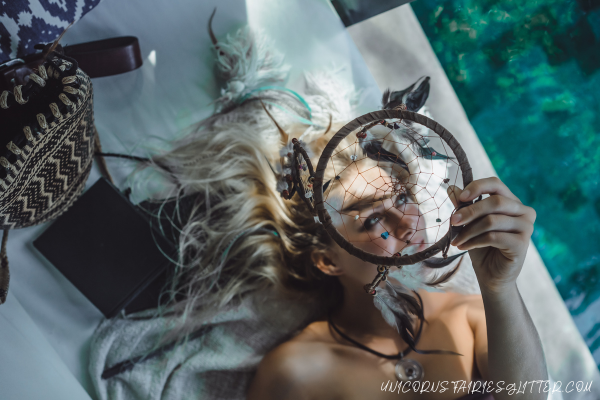 If you've ever dreamt of living under the sea, mermaid-inspired decor is for you!
In fact, this whimsical design trend has been making waves for quite some time now.
Captivating homeowners with its enchanting beauty, mermaid decor is truly magical.
With a mix of aquatic elements and shimmering accents, bringing the ocean inside is easy.
Let's embrace the deep blue sea and add a touch of fantasy to your space.
Below are a few things you can do to decorate your home with mermaid-inspired decor.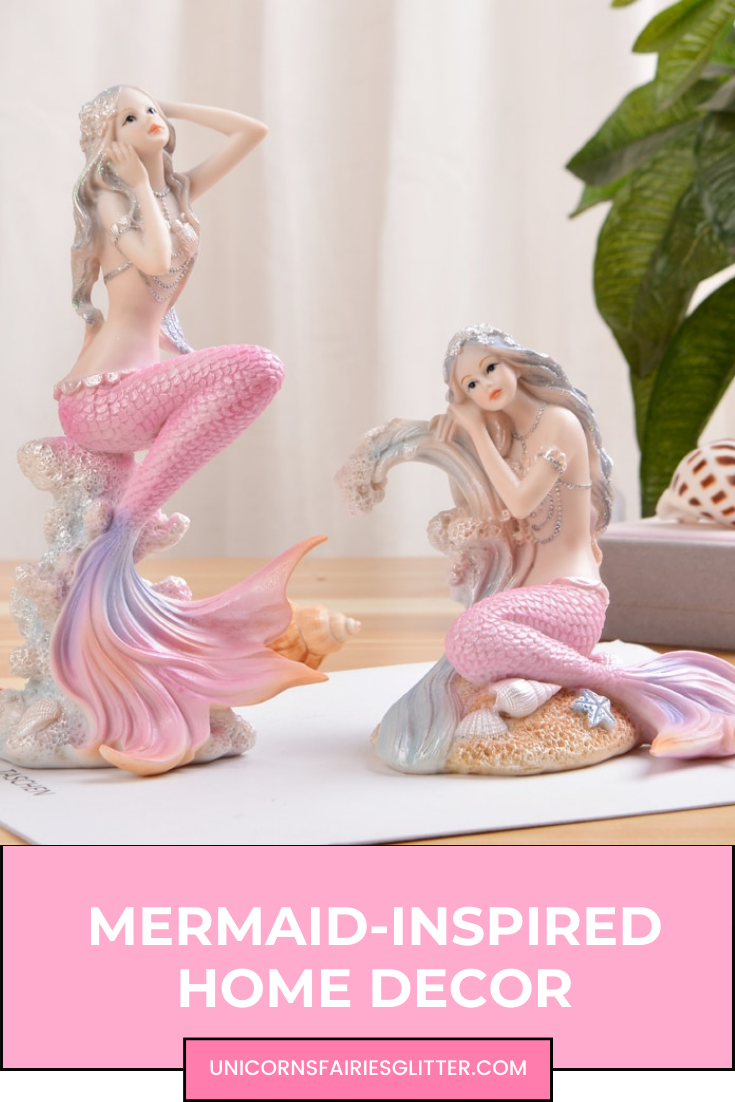 This article contains affiliate links to products you may like.
Mermaid Decor and More
Dive Into Serene Colors
At the heart of any mermaid-inspired decor is the color palette.
Opt for serene shades that mimic the sea's enchanting hues.
We're talking soft aqua, turquoise, seafoam green, and deep ocean blues.
Highlight these dominant colors with accents of pearl, iridescent silver, coral, or even glitter.
These hues can add a bit of magic and bring out the shimmering essence of a mermaid's world.
Accessorize with Treasures from the Deep
Fill your space with oceanic-inspired accessories for a complete mermaid theme.
Think seashells of various sizes and shapes, starfish, and coral pieces.
Artfully display these accessories on shelves or in glass jars.
Maybe incorporate items like mermaid statues, treasure chests, or nautical lanterns.
Turn your space into a charming underwater realm with oceanic accessories.
Splash into Elegance with Mermaid-Inspired Furniture
Mermaid-inspired furniture can be an enchanting touch to any space.
Aim for pieces that give off a sense of whimsy with curvy lines and smooth features.
Items that are pastel in color or that have aquatic tones will complement the overall theme.
Go for a seafoam-colored couch or a mother-of-pearl end table.
Choose furniture pieces that capture the essence of underwater living.
Embrace a Variety of Textures
Integrate various textures to create depth and add visual interest.
Soft, plush fabrics like velvet and faux fur evoke comfort and luxury.
Wallpapers that resemble shimmering scales create a magical aquatic feel.
From cushy throw pillows to natural woven rugs, mixing textures can add an enchanting allure.
Add Subtle Style with Nautical Decor
While the focus is on the mermaid theme, a few nautical elements can tie everything together.
Think rope accents, sailor knots, and driftwood.
Incorporate vintage maritime maps or marine life prints to capture the spirit of the ocean.
Any stylish nautical piece will bring a seafaring charm to any space.
Create Luminous Ambiance
Lighting plays a crucial role in creating a captivating ambiance.
To mimic the underwater world, choose lights that produce a soft, shimmering glow.
Crystal chandeliers or pendant lamps are great at imitating the water's reflective surface.
LED curtain lights can also create the sensation of swimming beneath the waves.
From sea glass table lamps to seashell wall sconces, mermaid-inspired lighting is truly magical.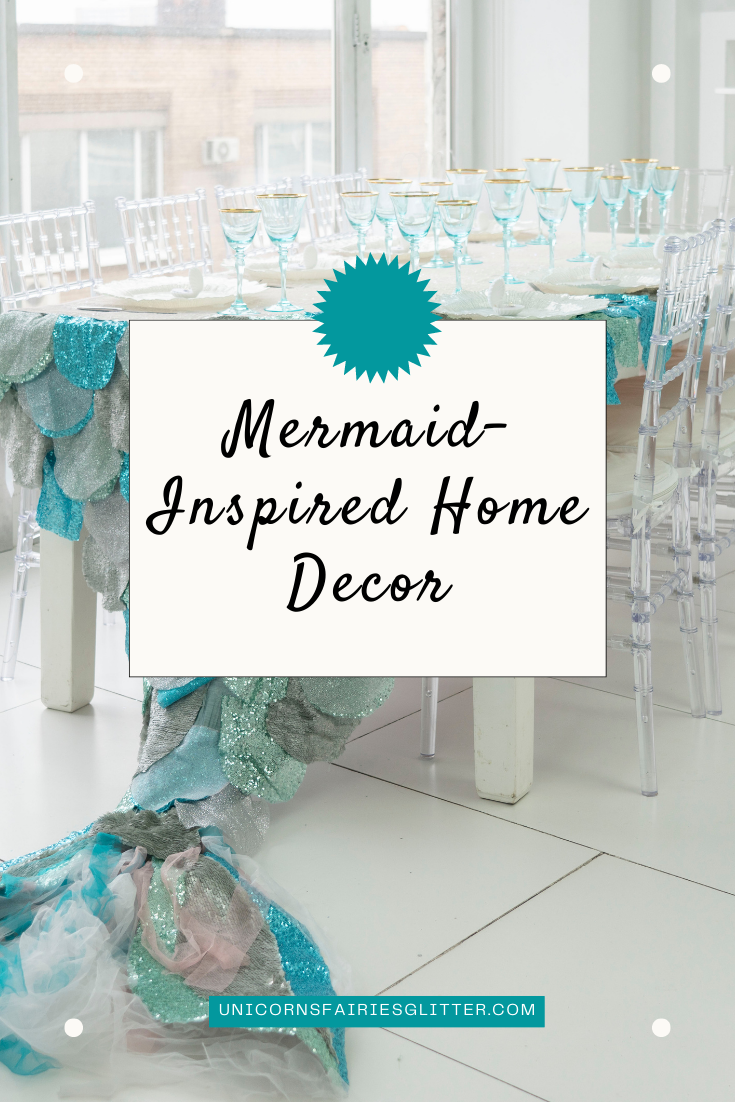 Bring the Ocean Inside with Mermaid Decor
Mermaid-inspired home decor is perfect for channeling your inner mermaid.
Immerse yourself in the allure of the ocean with underwater furniture, accessories, and more!
With tranquil tones and aquatic accents, it's easy to create a whimsical space.
Whether you opt for a subtle mermaid vibe or you dive deep into a full marine design,
embrace the magic and illuminate your home with mermaid-inspired decor!
---
You May Also Like…