How To Make A Fairy Garden
Join us as we walk through the steps on how to make a fairy garden!
Fairy gardens are a whimsical addition to your outdoor, or even indoor, space. If you're looking for a unique craft project to complete, building a fairy garden is an enchanting idea that is sure to bring a little bit of magic to your space.
So, what is a fairy garden, exactly? Well, a fairy garden is a miniature garden that is made up of very small landscapes. They are filled with small plants, trees and little trinkets that are believed to attract fairies. Creating a fairy garden is a super simple project, and you don't need much to get started.
Let's go ahead and make a whimsical fairy garden!
Creating a Fairy Garden
Fairy Garden Supplies
While it doesn't require a lot to create your own magical fairy garden, there are a few things that you are definitely going to need. These items include:
Potting mix or composted soil
Container with drainage holes (flower pot, wood crate, tin bucket)
Earth elements (plants, twigs, flowers, gravel, sea glass, moss, sand)
Mini decorations (fence, bridge, house, bench)
Fairy Figurine
Choose a Theme
A fairy garden can be whatever you want it to be. You don't necessarily have to choose a theme, but if you do, it can be helpful! Choosing a theme makes it easier to decide on the different elements and decorations that you would like to incorporate in your garden. Some ideas for a fairy garden theme include:
Woodland Forest
Sandy Beach
Whimsical Cottage
Enchanting Castle
Fairy Garden Design
Container
Once you have decided on your theme, select a container that best suits your idea and your space. Remember whatever container you choose must have drainage holes because a fairy garden is made up of living elements.
Once you have selected your container, add a layer of gravel to the bottom. Then, fill the container with composted soil or potting mix. We prefer composting soil as it tends to give a more of a natural look to your fairy garden. On top of the soil, add elements such as moss, sea glass, or sand to create paths for the fairies to follow.
Plant
Next, add plants to your fairy garden. You will want to choose plants that are best suited for the garden's location. Things to consider when choosing plants would be their light requirements, water needs, and whether they are fit for an indoor or outdoor space. Plants that are just several inches in height with small leaves are generally easy to grow and maintain. Be creative and use your imagination when choosing your plants. Some wonderful fairy garden plant options include ferns, rosemary, succulents, and ivy.
Decorate
Now that you have paths and plants in your fairy garden, it's time to add a few miniature decorations. Dress up your garden with tiny things like toadstools, birdhouses, lanterns, fencing, and more. Adding fairy furniture and other garden accents can really bring your fairy garden together. When you feel that your garden is complete, find the perfect place for your fairy or fairies, and set them in the garden.
You have just made your very own fairy garden! Now you can sit back and enjoy all the magic that it brings to your space!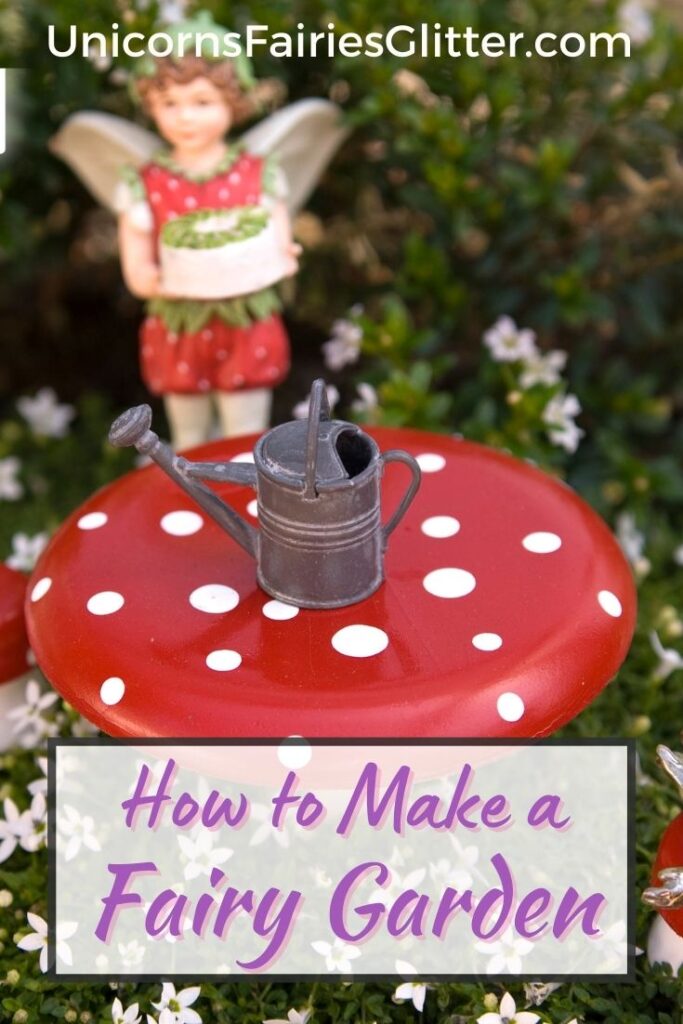 Fairy Garden Craft Project
Designing a fairy garden is a wonderful activity for kids of all ages. Every fairy garden is a unique addition to your home whether inside or out. Now that you know how simple it is to add some whimsy to your space, we can't wait for you to share your handmade fairy garden projects with us. Let's see!
You May Also Like…